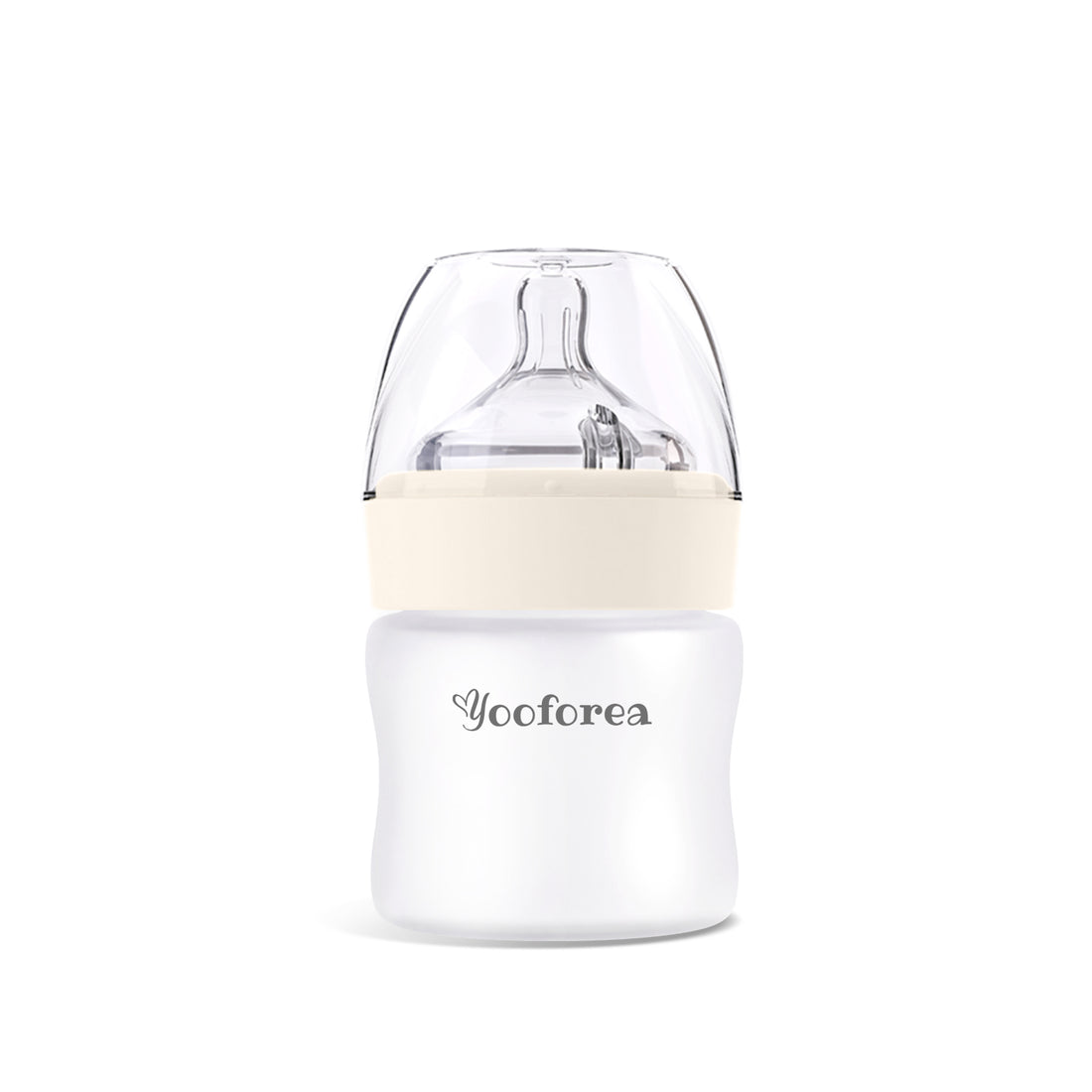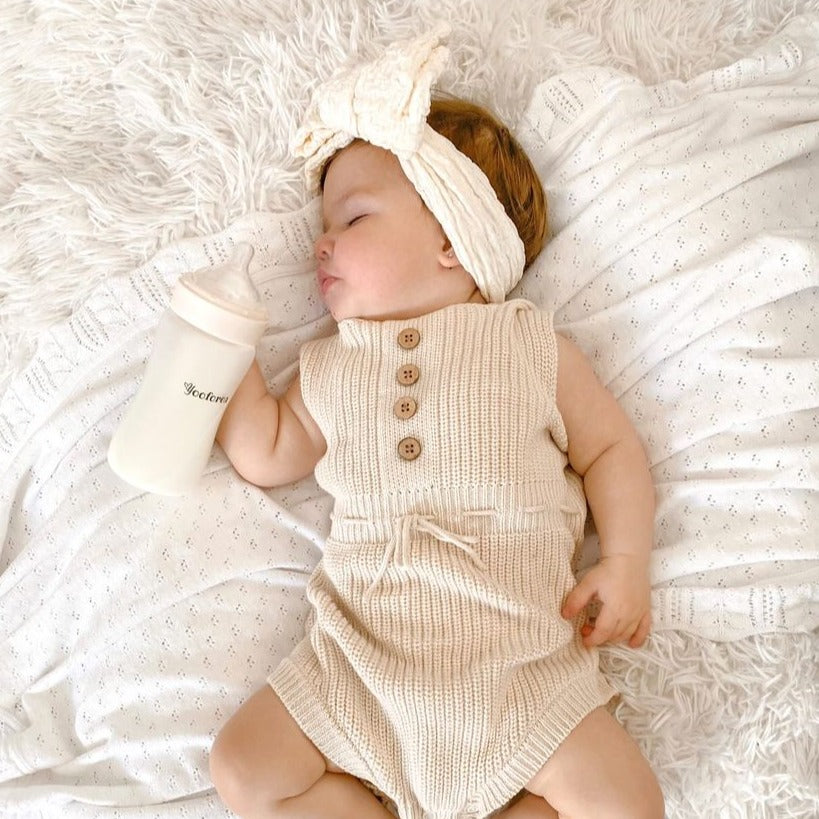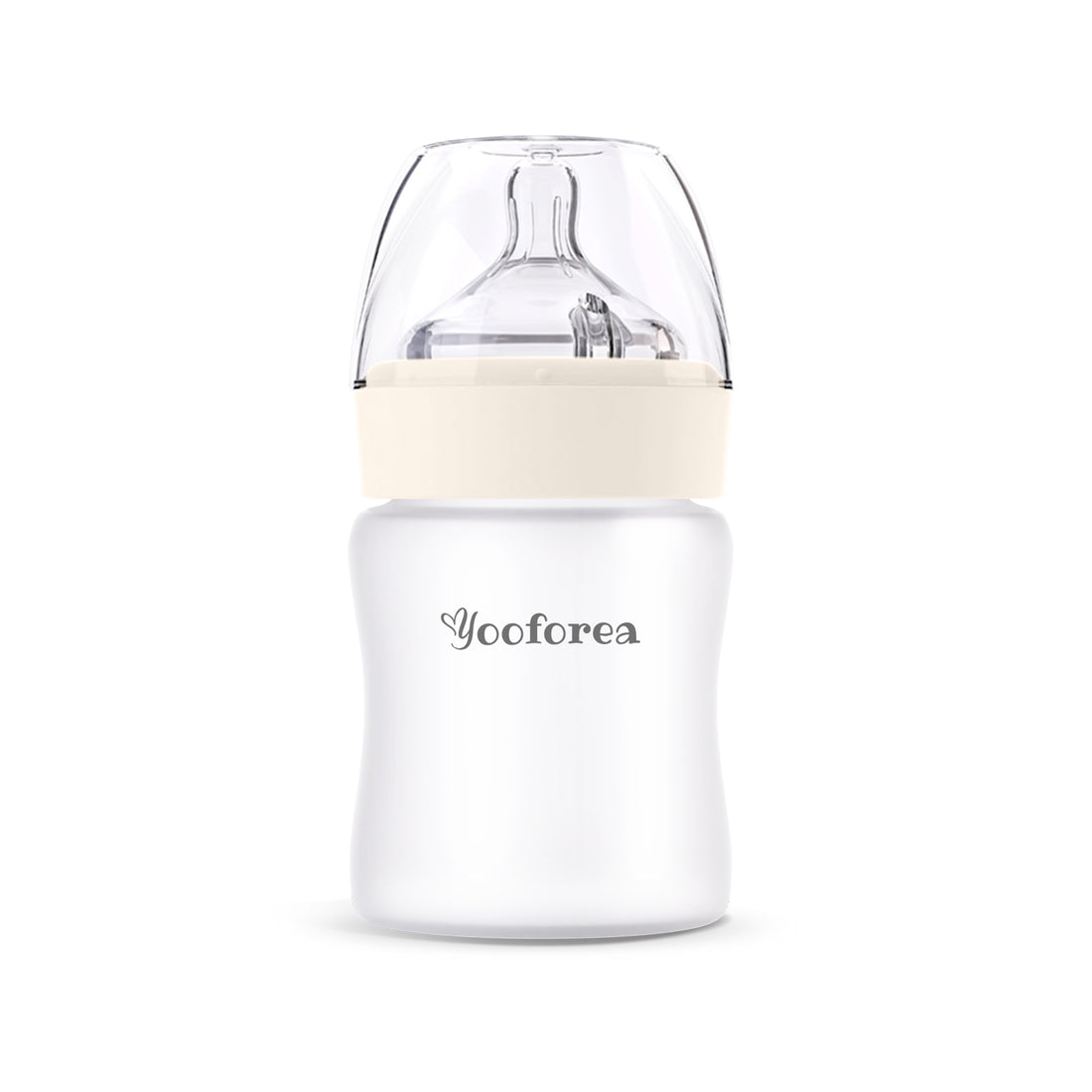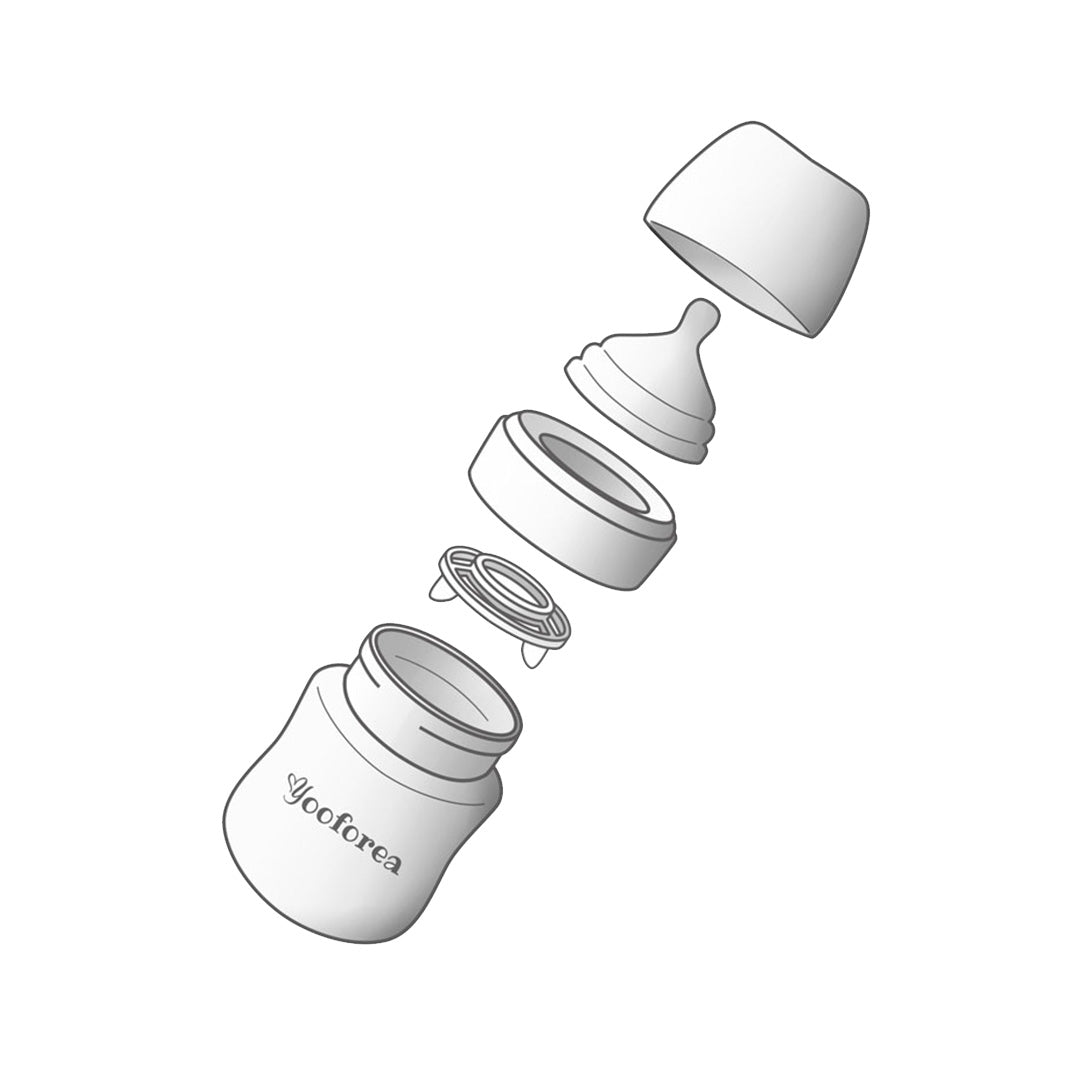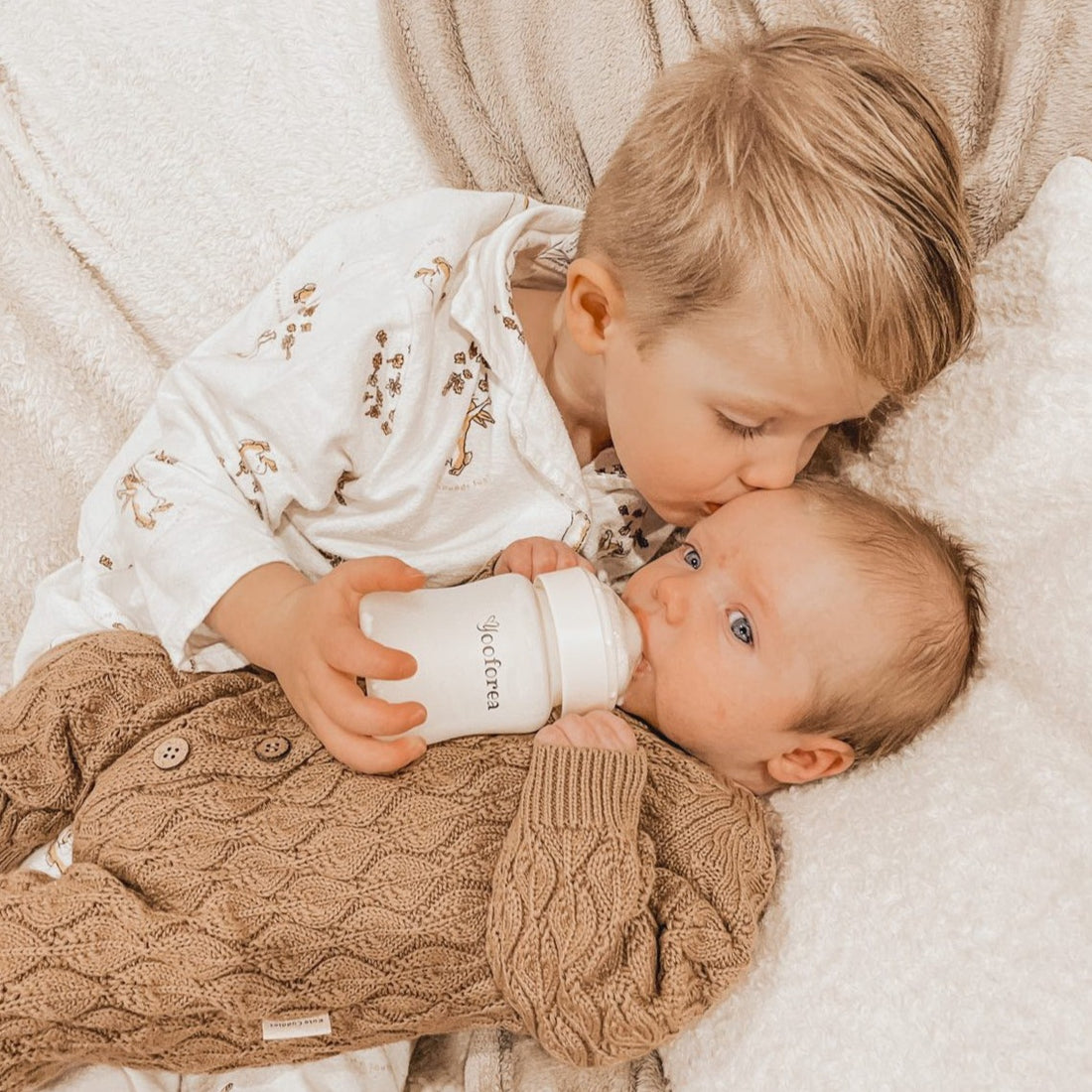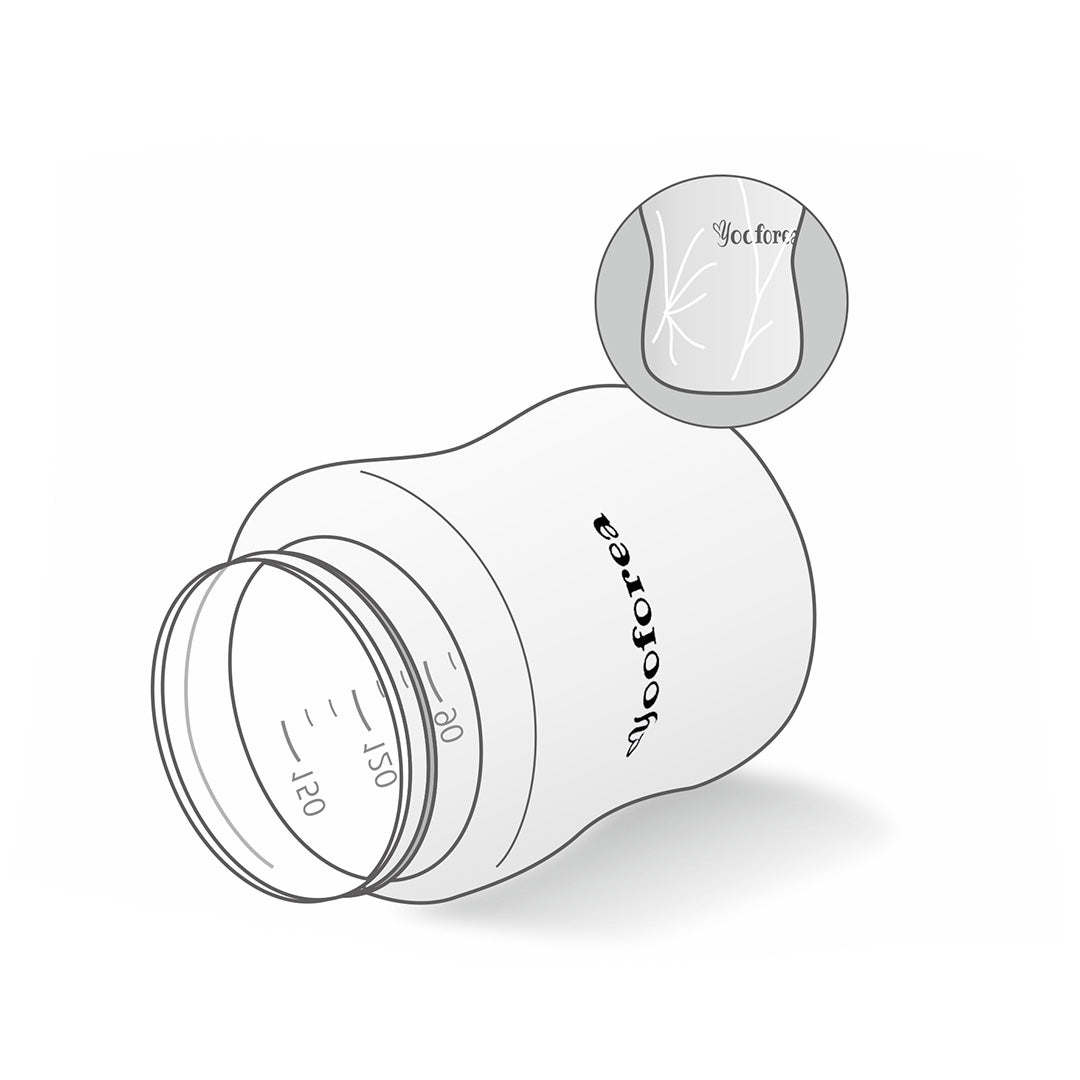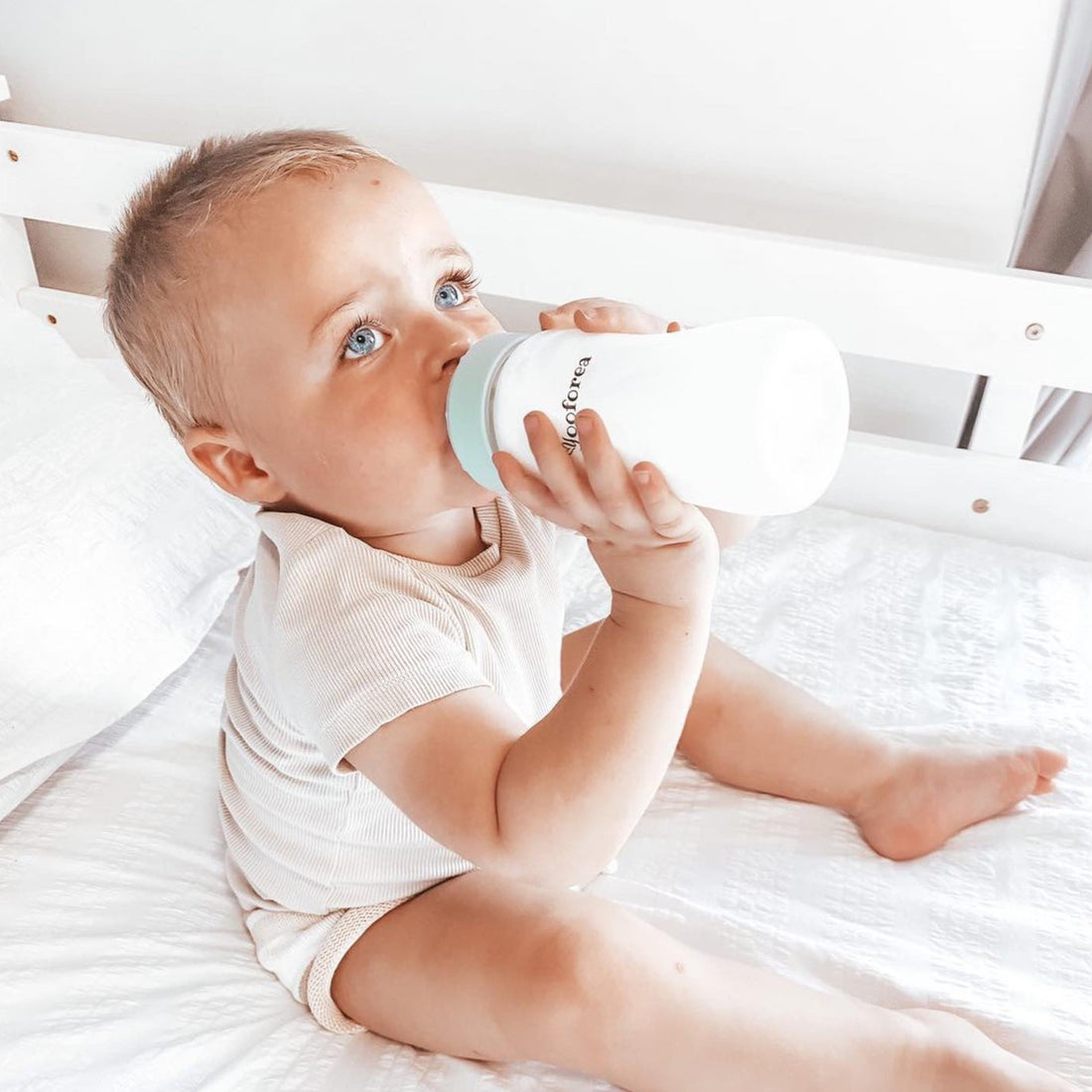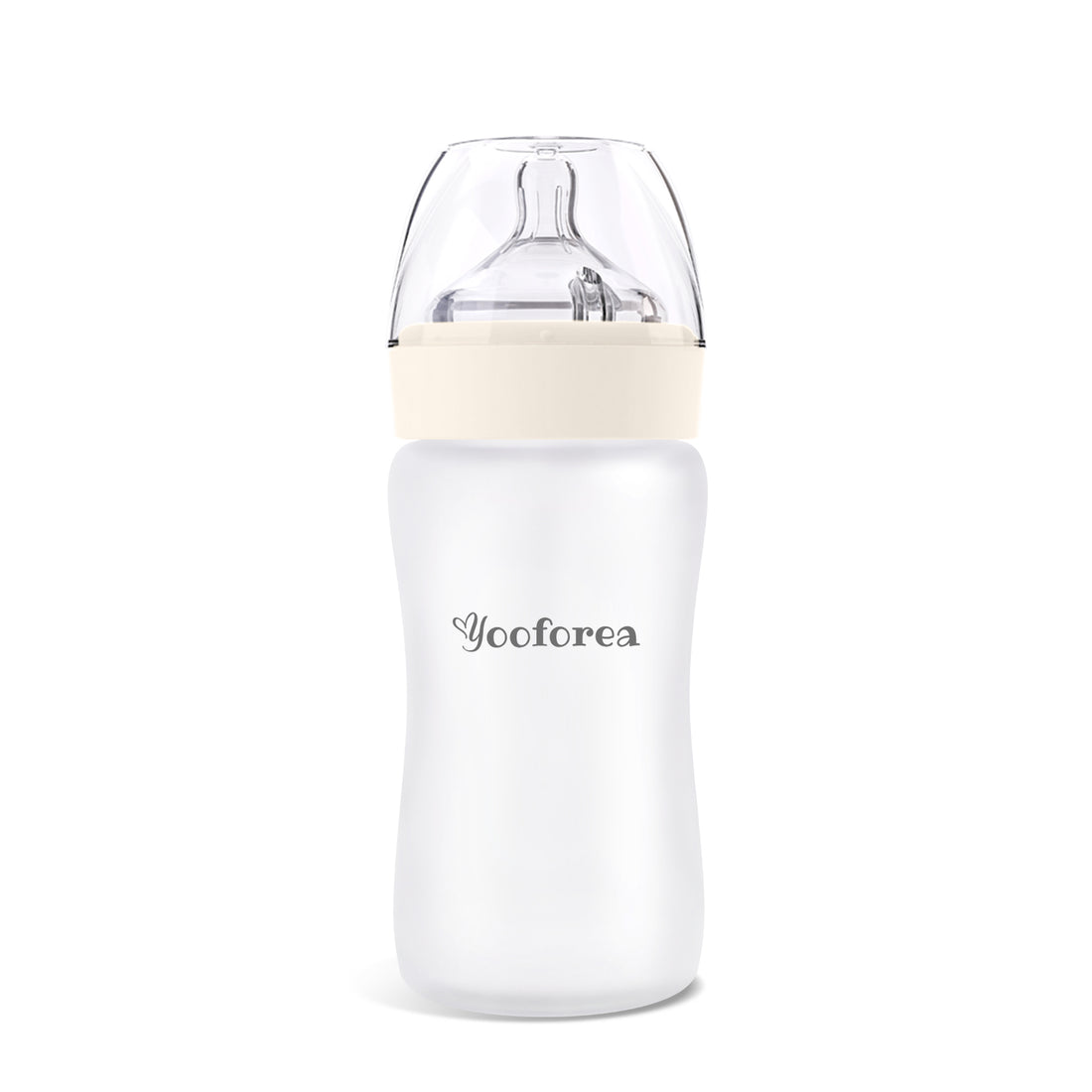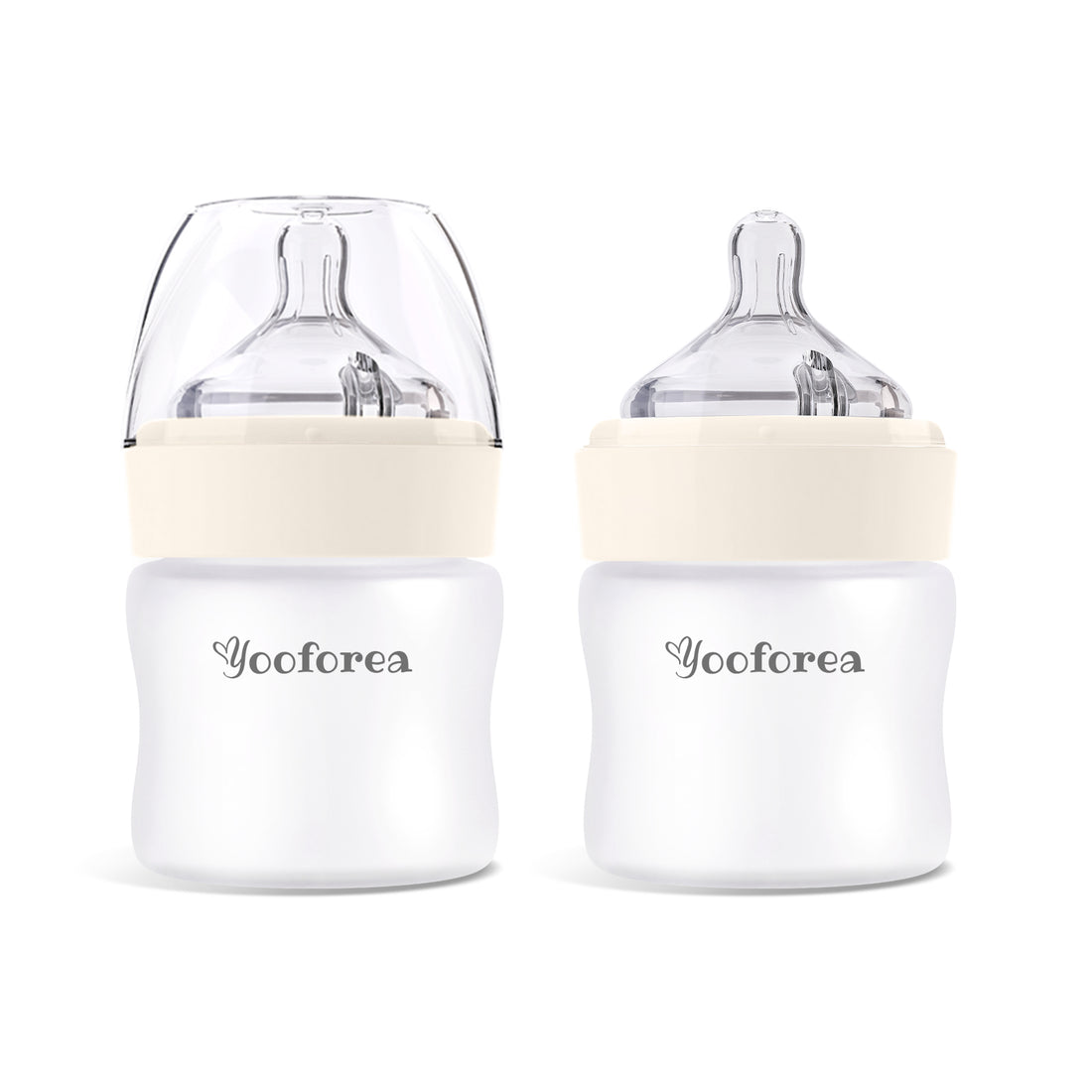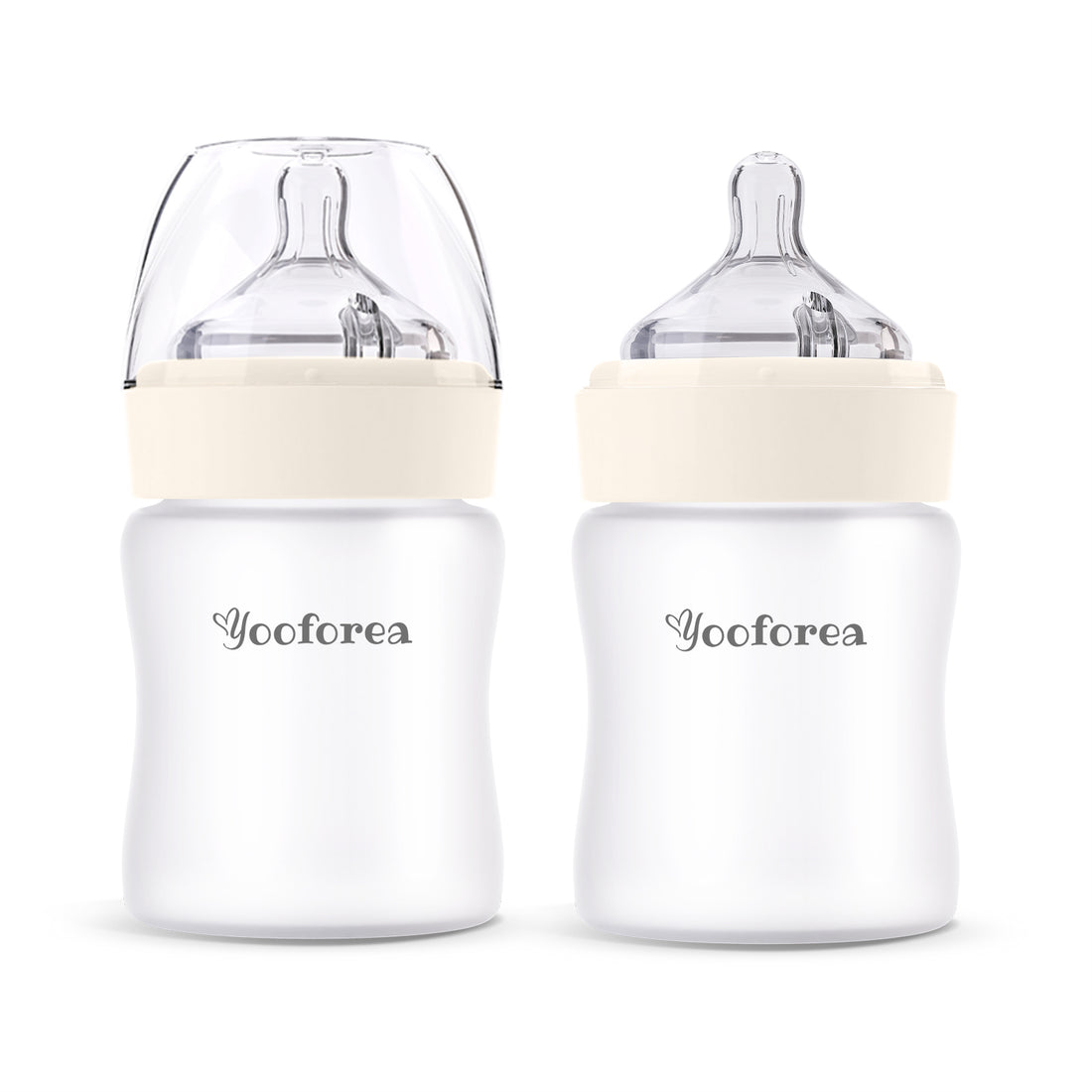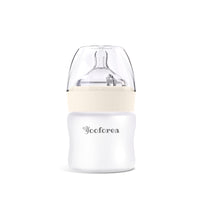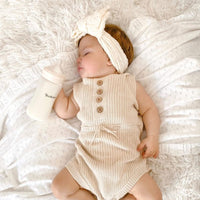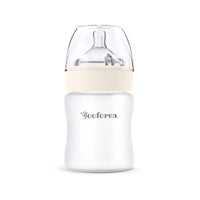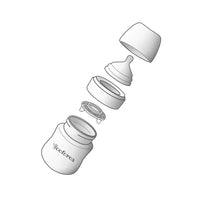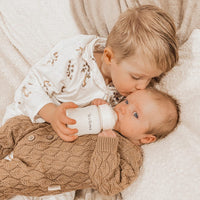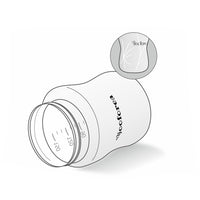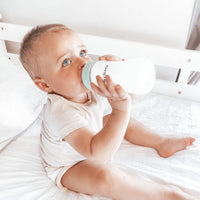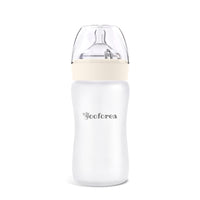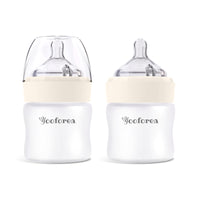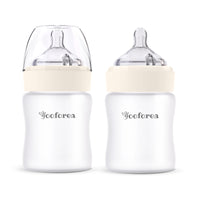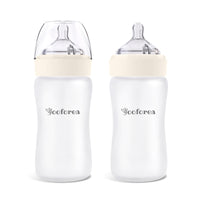 Introducing the Yooforea EUBO Glass Baby Bottle coated with silicone, a thoughtfully designed feeding solution that prioritizes your baby's safety, comfort, and developmental needs. Our innovative bottle is carefully crafted to make feeding a delightful experience for both you and your little one. 
With EUBO Baby Bottle, you're investing in a product that combines scientific innovation with nurturing care. We're here to make your feeding journey smoother, your baby happier, and your moments together more precious. Experience the difference today.
🌿 Crafted with Care
Borosilicate Glass: We've chosen borosilicate glass for our baby bottle, ensuring it remains free from harmful chemicals. This material is resistant to leaching, odors, and staining, guaranteeing the utmost purity for your baby's formula. Feed your little one with confidence, knowing they're getting the best.
Soft Touch Platinum Silicone Coating: Our bottle features a soft and supple silicone coating that offers a sensory link between your baby's skin and the bottle. This transition from breast to bottle feeding is made smoother, helping your baby feel more comfortable during feeding times.
Venting System: Say goodbye to feeding frustrations caused by excessive gas and colic. Our venting system is thoughtfully integrated to reduce these issues, making feeding time a joyful experience for both you and your baby.
Flexible Teats: The flexible teats mimic the natural feel of breastfeeding, ensuring a seamless transition between breast and bottle.
🌿 Designed for Convenience
Few Parts and Easy to Clean: We understand the importance of simplicity when it comes to baby products. Our bottle boasts a minimalistic design with few parts, making assembly and cleaning a breeze. Our bottle features a wide neck for easy filling and cleaning.
Curvy Shape for Easy Grip: The ergonomic curvy shape of our bottle is designed to fit comfortably in your baby's tiny hands, promoting independent feeding and enhancing their motor skills.
Choose from a range of bottle sizes that grow with your baby's needs:
3oz | 90mL Perfect for newborns and early stages.
Dimension 2.56in * 4.63in
Teat Slow Flow (0-2 months)
5oz | 150mL Designed for growing appetites.
Dimension 2.56in * 5.31in
Teat Medium Flow (2-6 months)
9oz | 270mL Ideal for active and hungry babies.
Dimension 2.64in * 7.22in
Teat Large Flow (6+ months)
SAFE AND HEALTHY FEEDING
Microplastics Free
Relentless testing of both our materials and design have gone into our products especially the bottles. From the selection of glass to the design that ensures milk or formula is never exposed to any surface aside from the glass or silicone teat. Safety is a key philosophy of ours and we meet the top industry standards.
SOFT, SMOOTH & VELVET SKIN-LIKE TOUCH
Silicone Coated Glass
A sensory link between mothers' skin and a new object to make the transition as seamless as possible for your little one. Our silicone is pure, chemical-free and designed to be a sensory comfort for your baby.
FUSS-FREE FEEDING
7 Holes Foam Filter
Filters the foam that's often present after making and shaking formula, reducing the chances of your little one taking in extra air and experiencing colic symptoms.
CLOSELY MIMIC NATURAL BREASTFEEDING
Anti-Colic Teats
Reduces air ingestion during feeding to guard against gas, fussing, and colic. With four sizes, our bottles grow with your baby.